Our heroes travel across the city of Baldur's Gate, doing their best to tell friend from foe, but with everything that's happened, can they truly see the wood for the trees?
Updates!
We've been so busy!
At present, twice a week on Wednesday and Saturday, we release a patron only post containing letters and journal entries from various supporting cast members. Want to know what happened to the Doomsinger between the moment he stayed behind in Greenest to the moment they found him? We got you covered. Want details on the real reasons the cultists left in such a rush? Or perhaps why the Scales of Justice set off on their journey in the first place? We. Got. You.
On top of that, we're now releasing every episode a week early via our patreon at the $5 and above tiers, this includes the two part guest episodes which we continue to record with new guests most weeks!
Speaking of other podcasts though; this week we bumped into members of Encounter Roleplay and TheMortalPath whilst at a local store we were attending to meet with Ruty Rutenberg and Satine Phoenix of Maze Arcana during their european tour. Hopefully we'll have some exciting news for you in the future and we look forward to collabing with TMP in future too!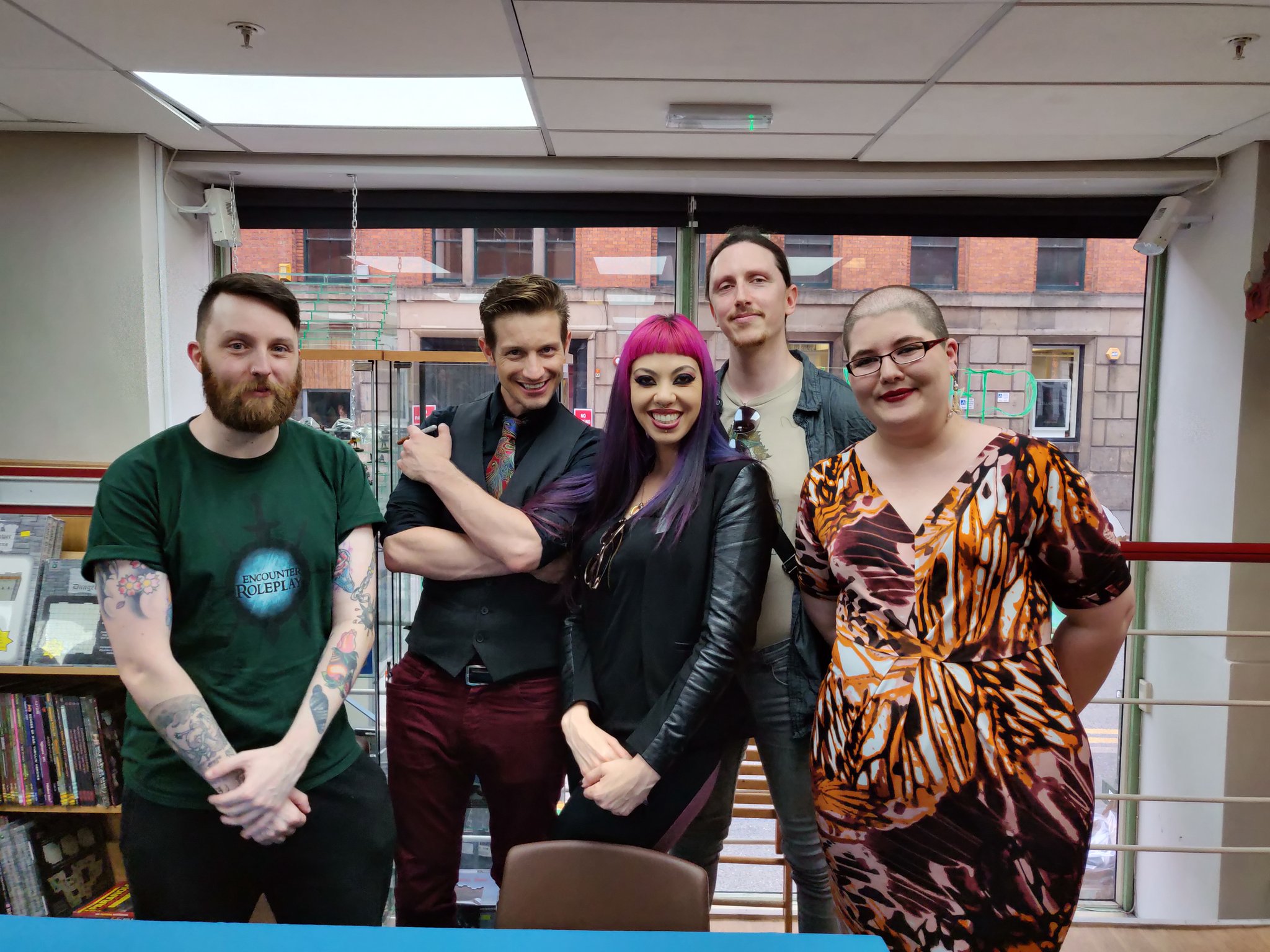 Screaming into the void
Check out our Linktree! https://linktr.ee/DarkDragonsInn
It's a nice simple way to find us on just about any social media platform you can imagine.
Funding at the Inn
Without your support, our show is a lot more limited on the services we can provide. Drop us a tip and for as little as $1 a month, you gain access to a variety of rewards https://patreon.com/DarkDragonsInn
If you'd prefer to make a one-off donation, try https://ko-fi.com/DarkDragonsInn
The mysterious echo
This week, our show features a promo from Chaotic Goodness
Find them on twitter at https://twitter.com/chaotic_podcast
You can find our friends in the photo above at;
The Mortal Path https://twitter.com/TheMortalPath
Chris Bisette https://twitter.com/pangalactic
Satine Phoenix https://twitter.com/satinephoenix
Ruty Rutenberg https://twitter.com/RutyWoot
Both of whom you can find on Maze Arcana https://twitter.com/MazeArcana
Podcast: Play in new window | Download
Subscribe: Apple Podcasts | Google Podcasts | RSS | More